4 Person Dinghy (Pricing starts at $60)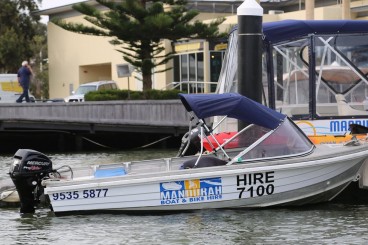 1 Hour hire

$60

1.5 Hours hire

$90

2 Hours hire

$120

3 Hours hire

$180

Half Day

$200

Full Day

$360
Information about this hire
For a more intimate experience on the Mandurah Canals, opt for our four-person dinghy! This smaller vessel is great for couples or smaller groups who want to explore the Mandurah Canals, see wild dolphins, or stop for some crabbing or fishing.
Our boats are a great value for those who want to be out on the water and be in charge of their trip. Our user-friendly boats are designed for all ages and abilities and you'll receive a thorough safety review and instructions for your boat's operations. We're sure you'll have a pleasant morning or afternoon with one of our boat hires. The maximum this boat can take is 4 people including small children. You will not be entitled a refund if you bring more people and are unable to go.
What to bring
Drivers license or photo ID
Snacks and drinks
Sunscreen
Music box
Jacket, as it can get cold on the water
Arrival time for your hire 
You will need arrive 15 minutes before your allocated hire time to checkin at the office and complete your waiver.
Once you head down to the jetty a 15 minute safety briefing will be given this is part of your hire time. Please ensure you return back at the jetty before the end of the hire time and have all your belongings together ready to disembark. 
General information
All boats have adult life jackets aboard and kids life jackets are handed out at the end of the safety briefing.
No skipper's ticket or boat drivers license is required when the boat is hired during day time. A recreational skippers ticket is required for night time hire to view the Christmas lights in December and early January.
Children are counted as a passenger, You can not exceed the number of people allowed per boat if you turn up with extra people we won't be able to let you take the boat. The boats have a legal amount of people that can go onboard. There are no exceptions to this.
There is no smoking allowed on any of the boats
There are no toilets aboard.
Night time hire to see the Christmas lights from the 1st of December to the 8th of January
A recreational skippers ticket is required to hire the boats on a night you must bring this on the night and your drivers license. We require a minimum of a 1.5 hour hire of an evening pricing starts at $118 for more information click here.
If you do not have your recreational skippers ticket a guide will be required at an additional cost of $60 for the 1.5 hour hire they will also take up one person on the boat. We only have 4 guides available per night if the option isn't there when you make your booking they are already booked out.