Mandurah Christmas Lights Hire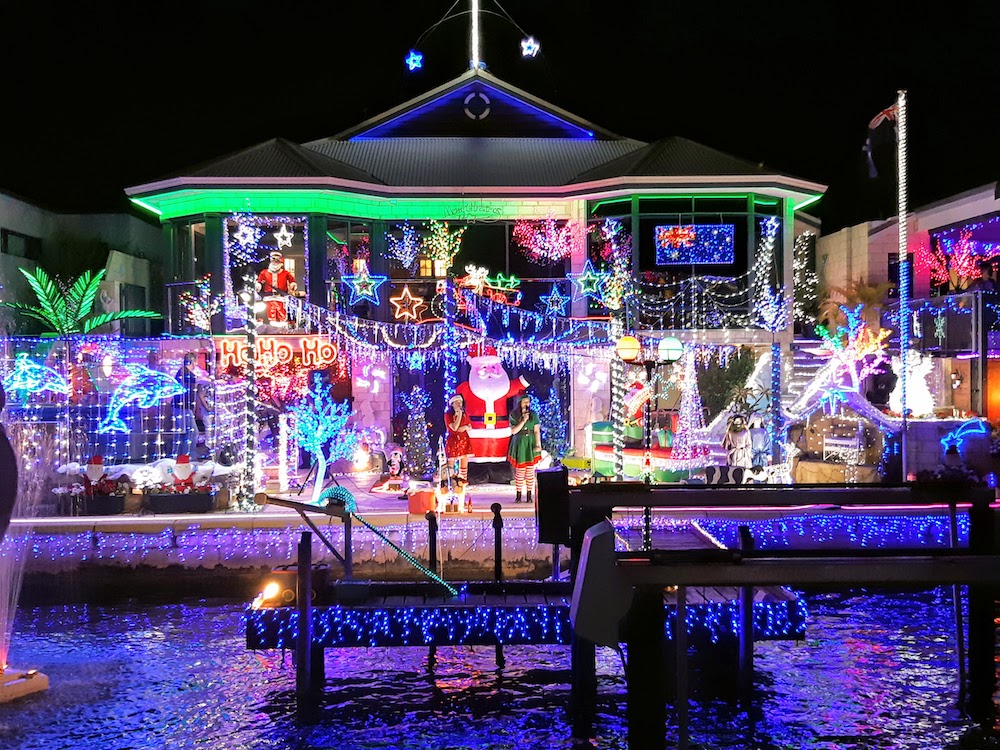 Cruise Mandurah's Spectacular Christmas Lights
From early December through to January the Mandurah Canal residents display a fantastic assortment of Christmas lights that offer an amazing experience to the general public.
Get your friends and family together for a truely memorable Christmas experience.
You are welcome to bring snacks and drinks along to be enjoyed.
There is a wishing well located within the canals, throw your money in and donate to the Mandurah Districts Rotary Club which then distributes the funds to local community groups.
What to bring
Your recreational skippers ticket and drivers license both must be sighted at the time of hire.
Coat or jacket, it can get cold on a night.
Cameras, there's lots to see.
Snacks and drinks to be enjoyed.
Important information
The hirer/driver MUST have a valid RST (Recreational Skippers Ticket / boat licence) and bring it as proof on the night of hire.
The hirer/driver MUST bring a valid form of photographic ID (e.g. a driver's licence) as well as the RST.
 We have two hire sessions available the first departing at 6:00PM, 6:30pm or 7pm and returning at 8:30pm and a later session departing at 8:45pm and returning at 10:15pm the minimum night hire time is 1.5 hours. The lights are best viewed after 7:30pm.
If your hire crosses from day time hire to night time hire, you will be charged accordingly (day rate + night rate = total rate)
There will be a BOND of $200.00 payable at time of hire.
The dates for our night time hire are between December 1st when the lights go up to January 8th when the lights start to come down again.
However, there will be NO night hires on Christmas Night (25th December) and New Year's Eve (31st December). Only day time hire.
A $200 deposit will be required to secure the booking or paid in full if under $200 and with the remaining balance to be paid one month from the date of the hire.
There are no refunds available for any cancellations to our "night time hires". We can offer a voucher for a day time hire with a 1 year validity if 14 days notice is given, we may allow rescheduling at our discretion if availability allows and at least 7 days notice is given.
Tour Guides
We are not currently accepting bookings for vessels with a tour guide.
If no one in the group has a valid RST we can try source a guide for the evening for an extra charge (talk to staff for further details). It is $60 for 1.5 hours and $80 for the 2 hour hire. The guide will also use one of the seats so if you have a 10 person pontoon you would now only be able to have 9 plus your guide = 10
Departure Dates & Times
Christmas lights are available to view from the 1st of December until the 8th of January.
There are two hire sessions available to book 7pm-8:30pm and 8:45pm-10:15pm.
If you would like a longer hire you can choose to go for 3 hours and take both session 7pm-10pm or leave earlier on the first session and go 6pm-8:30pm
Please arrive 15 minutes prior to your hire time to come into the office. We need to sight your RST (recreational Skippers ticket) & drivers license this will allow you to have your full hire time. If you depart late, you must still return on time or you will lose your bond.
Please note it doesn't get dark until 7:30pm the earlier time 6pm-8:30pm pricing is an early bird special as it will be light for the first part of hire.
                                   Pricing for night time hire is below.
| Boat | 6pm to 8:30pm | 7pm to 8:30pm | 7pm to 10pm | 8:45pm to 10:15pm |   |
| --- | --- | --- | --- | --- | --- |
| Deluxe Vessels |   |   |   |   |   |
| 12 Person deluxe pontoon | $400 | $300 | $600 | $300 | Book Now |
| 9 Person deluxe pontoon | $330 | $250 | $500 | $250 | Book Now |
| 8 Person deluxe pontoon | $300 | $225 | $450 | $225 | Book Now |
| 7 Person deluxe pontoon | $280 | $210 | $420 | $210 | Book Now |
| 6 Person deluxe pontoon | $280 | $210 | $420 | $210 | Book Now |
| 6 Person bow rider | $280 | $210 | $420 | $210 | Book Now |
| Basic Vessels |   |   |   |   |   |
| 10 Person pontoon | $330 | $250 | $500 | $250 | Book Now |
| 8 Person runabout | $280 | $210 | $420 | $210 | Book Now |
| 4 Person dinghy | $200 | $150 | $300 | $150 | Book Now |