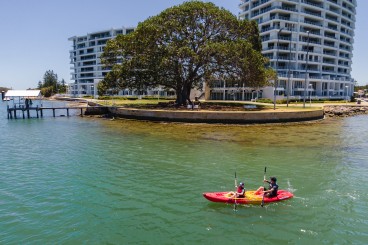 1 Hour SUP rental

$25

2 Hour Sup rental

$40

1 Hour single kayak rental

$25

2 Hour single kayak rental

$40

1 Hour tandem kayak rental

$40

2 Hours tandem kayak rental

$70
SUP Board & Kayak Hire Details 
Do you want to feel like you're walking on water? Then rent some stand up paddle (SUP) boards from us. It's one of the fastest growing water sports worldwide and it's easy to learn and loads of fun. If you want to get a work out in while enjoying the Mandurah Marina, then rent your board today!
Stand up paddle boards, so easy even the employees can use them. What else would you rather be doing on a nice sunny day? Keep fit and have some fun on these large size SUP boards. Being wide and long, these training boards are easy to paddle whilst nice and stable; paddle out to the marina, estuary, or the canals and, hopefully, the dolphins will come over to check you out. What a great experience and your abdominal muscles (abs) will love you for it. We have even had customers take the dog out with them. If you don't fancy balancing, kayaks are an easier option and just as much fun.
Life jackets can be provided for everyone. If you have never tried kayaking or the stand up paddle boarding a one hour hire is a good amount of time depending on your level of fitness. The mornings are also a nice time to go before the wind comes in.