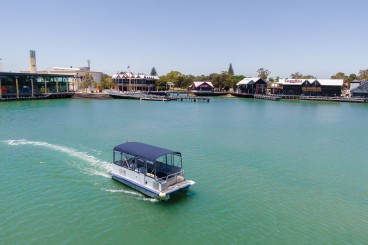 1 Hour hire

$130

1.5 Hours hire

$195

2 Hours hire

$260

3 Hours hire

$390

Half Day (4 Hours)

$470

Full Day (8 Hours)

$870
The maximum this boat can take is 8 people including small children. You will not be entitled a refund if you bring more people and are unable to go.
About The Vessel
These vessels are our deluxe vessels, designed for sightseeing and relaxing. They have canopies and clears so you are protected for the elements and can stay cool in the shade as you relax with your friends and family, take in the gorgeous scenery in the canals or admire the beautiful wildlife including dolphin's, pelican's and more.
We understand many of our visitors have never driven a boat before, so we make sure you're comfortable and confident with the boat's operation and have a map to plan your route before you get out into the water. We want you to focus on having fun, which is why our boats are designed for all ages and skill level and you'll be amazed at how easy our boats are to use. 
No skipper's ticket or boat drivers license is required when the boat is hired during the hours of daylight however you should watch our Safety Video before the day.
What to bring
Drivers license or photo ID
Snacks and drinks
Sunscreen
Music box
Jacket, as it can get cold on the water
Arrival and Departure Times
You will need arrive 15 minutes before your allocated hire time to checkin at the office and complete your liability waiver. You can also complete the waiver online before the day using the link in your confirmation email. On busy days, please allow additional time as there can sometimes be a queue in the office.
Once you head down to the jetty you will be given a 15 minute safety briefing this is part of your hire time. This may be reduced if you've watched our Safety Video and have been deemed competent by our staff. Please ensure you return back at the jetty before the end of the hire time and have all your belongings together ready to disembark. Late returns will be charged.
Example Schedule
You have a 2 hour booking starting at 10am. You arrive at our office at 9:45am and complete the liability waiver and check-in for your experience. You head down the jetty at 10am and start the safety induction and once deemed competent you depart our jetty around 10:15am. You then arrive back at the jetty at 11:55, take 5 minutes to disembark and remove your belongings. The hire is complete at 12pm.
Important information
All boats have adult life jackets aboard and kids life jackets are handed out at the end of the safety briefing.
No skipper's ticket or boat drivers license is required when the boat is hired during day time.
A recreational skippers ticket is required for night time hire to view the Christmas lights.
Children are counted as a passenger, You can not exceed the number of people allowed per boat if you turn up with extra people we won't be able to let you take the boat. The boats have a legal amount of people that can go onboard. There are no exceptions to this.
There are no toilets aboard. The closest public toilet is next to the Visitor Centre.
All pontoons are wheelchair accessible apart from the 6 person deluxe pontoon.
What is Not Allowed on the Vessels?
There is no fishing or crabbing allowed of any of the deluxe pontoons.
There is no smoking allowed on any of the boats.
You can not operate any vessel while intoxicated. Zero tolerance.
Night Time Hire for Christmas Lights
The vessels are available for night time hire between 1st December and early January to see the Christmas Lights however a Recreational Skippers Ticket is required and must be presented on the night. More information is available on the Christmas Lights Hire page.